Study Schedule: 7 Steps to Creating the Best Study Schedule
The Benefits of Creating a Study Schedule
People tend to believe that having good notes and participating in class is all that is needed to do well in college.
However, as a student's life is full of other commitments besides studying, creating a study schedule is one of the most important steps toward getting better grades with less stress.
A study schedule will help you create an effective study plan, improve your time management skills, and ultimately, make you a better student.
The Problem of Not Having a Study Schedule
Most students struggle because they don't have a study plan that reflects their academic life. They overestimate the study time they have available and underestimate the study time they need to get things done.
Their current schedule – or lack thereof – gives them a false sense of security that they have enough time to complete their tasks in time.
They start too late, get behind, and end up cutting corners. Catching up is almost impossible. Stress goes up, grades go down, and valuable time with friends, self-care time, or valuable family time gets cut off.
I'm going to highlight some important points on why a study schedule is exactly what you need to improve your grades this semester and show you how to create a customized study routine that works for you using our app Shovel.
How Much Time Do You Spend Doing Everything?
Creating a study plan is a lot different than adding a few events into your calendar. It is about uncovering available study time.
When are you awake?
What do you HAVE to do?
What do you WANT to do?
Are you WASTING too much time?
What is your STUDY time?
What will you DO during your study time?
Commit to your study times
We'll dive into each of these topics one by one. We'll be using Shovel as our tool of choice for building out your study schedule because it was built specifically for that purpose, but feel free to use any other tool that works for you.
How Much Time Do You Have for Studying?
Students have many different learning styles, but no matter what your learning style is, you need to give yourself enough time to make sure you can grasp your study materials.
This means that you need to create a study schedule that will help you figure out how you spend time and when you have each study "block."
If you tell me you're struggling in college, the first question I am going to ask you is this:
Do you have time for college?
I don't mean generally. I mean precisely. Do you?
Do you know exactly how much time you have, how you use it, and most importantly, how much you will commit to studying? On Monday? Tuesday? Every day? To the minute? Most students don't.
If you don't know how much study time you have, you cannot compare it to the time you need to get things done. This means that you don't know if you have time for college.
So the first step to creating a study plan is knowing how much study time you have available EVERY DAY throughout the ENTIRE SEMESTER.
Creating a Study Schedule
The sole purpose of creating a study schedule is to uncover available study time so that you can become better at planning your tasks.
This means, you need to fill your calendar with the time that is commited to other responsibilities besides studying.
This is easy, just start adding the things you do every day into your schedule.
You can use any weekly planner or blank calendar to do this, but we will use Shovel.
1. When Are You Awake?
You can only get things done when you are awake. So if you are going to make a good study plan, you probably need to know when that is.
I was an early bird. You may not be. Based on your class schedule and personal habits, just make your best guesstimate of when you typically get up and go to bed each day of the week.
The goal here is to know how many hours you can use each day so you can make a study plan. Of course, that may change, and that's OK. For now, just go with your instinct.
Example sleep schedule:
Wake up: Monday-Friday: 8am. Saturday and Sunday: 10am.
Bedtime: Sunday – Thursday: 12am. Friday and Saturday: 2am.
Your available hours might look like this in Shovel. That's where all your other commitments will need to fit. That's all the time you have.
Benefits of a Consistent Sleep Schedule for Students
Your sleep regulates your circadian rhythm, which regulates your mood. The less consistent you are with your sleep, the more irritable and the less motivated you'll be.
2. What Do You HAVE to Do?
If you are sleeping an average of 8 hours a day, you have 112 hours of awake time every week. But that's not all your available study time. Most of it is already taken up by the things you have to do.
Start With Your Class Schedule
Your classes are the anchors in your schedule. You need to go to every class, so everything else will be built around that.
In Shovel, just drag and drop your courses into your calendar to create class times or connect your existing calendars like Google, Outlook, or Apple.
Add Activities and Other Fixed Commitments
You cannot build a good study schedule if you don't know what other commitments take up your time. To build strong study habits, be consistent with what you do every week and when.
Add things like:
The time it takes you to get ready in the morning.
When do you eat and for how long?
When do you workout?
When are your extracurricular activities?
Even think about how long it takes you to walk to and from places (aka, your commute time). This is very easy to add to any event in Shovel.
Again, you cannot build a good study plan if you don't know when you can study and for how long.
Another thing that I like to do when I schedule my activities in Shovel, is that I like to think of the breaks that I take between each study session as mandatory. So since it's a thing I have to do to avoid burnout, I like to have a separate activity "type" only for break time – usually 5-20 minutes long – and drag and drop them into my schedule.
If you like working with the Pomodoro technique then I'm sure you would find this way of scheduling breaks very beneficial.
Now you're really starting to uncover the time you have available for studying, but there are other aspects of your study life that need to be scheduled.
3. What Do You WANT to Do? (Me Time)
Having a school/life balance is important for your mental health and your academic performance.
Besides, college isn't just about studying. It's also about having fun.
Think of all of the things you want to do. We can call it "Me Time". This is the time you set aside for having fun or doing other personal things.
You don't necessarily know what you'll be doing, but you're certain you won't be studying. Examples are weekend nights and probably mornings too.
You can have as much or as little Me Time as you want. The point is to exclude it from your available study time so you can make an accurate study plan. Just be honest with yourself about what times you will really use or not use for studying.
The nice thing is that Me Time is flexible. The goal is to never have to use it for studying, but if you need it, you always know it's there. It's your reserve if you get behind— or for those weeks where you have three midterms and a paper due.
For now, put in your best estimate. You can create "Me Time" as a separate activity "type" and drag it into the available slots in your calendar where you would like some extra hours for yourself.
You can always adjust it later when you know how much time you really need.
When you are done, your schedule may look like this:
So, now you have a pretty good idea about what takes up your time during the week. To make an accurate study plan, you want to schedule every detail that you can so you are always prepared.
4. Are You Wasting Too Much Time?
We are serious about time. Minutes matter in college, and chances are, you waste a lot of them.
When you lay out your day, you are going to find that there are a lot of empty time blocks between classes, meals, and activities that may be too small to use for studying. We call it "Wasted Time."
In most cases, you can't do anything about it.
However, if you are looking to maximize your available study time, a good source could be those gaps.
Use Small Blocks of Time For Small Tasks
Look at each one and ask yourself – based on the length and location of that time block, can you use it to get something done.
For example, you may have only a 30-minute time block available, but if it's between two classes in the same building, you could have time to do something like an extra reading or a quick revision on the things you already read about.
Shift Things Around to Create More Study Time
Another alternative is to see if you can move things around to create larger free blocks. For example, moving lunch or your workout by just 30 minutes might create a bigger block on either side that would give you more usable study time.
The point is to find and consider your options with every block you have. Remember, you don't have to use them, but it's good to have them available if you need them.
The Shovel app makes it easy to find and fine-tune every minute in your schedule. You can just drag things around and see exactly how it affects your study time.
Minimum Study Time Block in Shovel
You can even set what you think is your own personal useful minimum study time block. Aka, the minimum amount of time you can get something done. Once you set it, Shovel will convert only free times that are equal to or larger than your set amount into the time you can use for studying.
Minutes matter in college. Find and make the most of them.
5. What Is Your "Study Time"?
Now you have created a solid schedule. You know what you do each day and when you do it.
But you've also done something even better.
You set yourself up to create a real study plan where you'll be able to plan what task you'll work on, when, and for how long.
Shovel also shows you all of your study time blocks and calculates the amount of time you have in each of them. It will use these times to calculate if you have enough time to get your work done on time, but more on that later.
6. What Will You Do During Your Study Time?
The last step in creating a good study plan is the most important one – planning specific tasks into your study blocks. AKA Time-Blocking.
Shovel makes this easy. You'll have every task from every class next to your calendar view. Each task will have a deadline and a start date.
Additionally, every task in Shovel will have an estimate of how long the task should take. (Shovel will even calculate the time needed for each reading task based on your reading speed and the number of pages you need to read in a specific reading source.)
The app will then rank your tasks in order of importance and display them in a list next to your calendar.
Time-Blocking
Then all you have to do is drag and drop your tasks into your available study times in your calendar. This is known as Time Blocking.
Time-Blocking your tasks will eliminate uncertainty about what you should focus on and when. It will eliminate multitasking which will help you be more efficient. It will help you get your things done faster since each task is assigned a specific amount of time in your calendar.
Most importantly, it will help you stay accountable. Just as having a mandatory lecture in your calendar will help you go to class, planning to work on a specific task at a specific time will make it harder for you to break a "promise" you made with yourself to get it done at that time.
In Shovel, you can filter and sort your tasks the way you want. To go back to seeing all your tasks again, you can close search by clicking on the 'x' next to the bar.
You don't need to plan too far in advance. Just sit down every Sunday night with Shovel, look at the tasks that are due next week and the tasks that are within their start date, and plan them into empty study blocks in your upcoming week.
After you finish planning your tasks, your study plan is complete and you can start working towards your goals!
7. Commit to Your Study Times
When you decide on study times, COMMIT to them. Completely, totally, unequivocally commit. If they aren't really a study session, then change it to something else.
The only way you can make a truly accurate study plan is to know when you are going to study and stick to your plan.
Shovel's reminder feature can help you do this by sending you notifications every time a study session approaches as well as just after one ended and asks you about the progress that you've made.
In case you haven't studied as needed when the session ends, Shovel unplans the planned study block so you can drag and drop your task into another available time block again.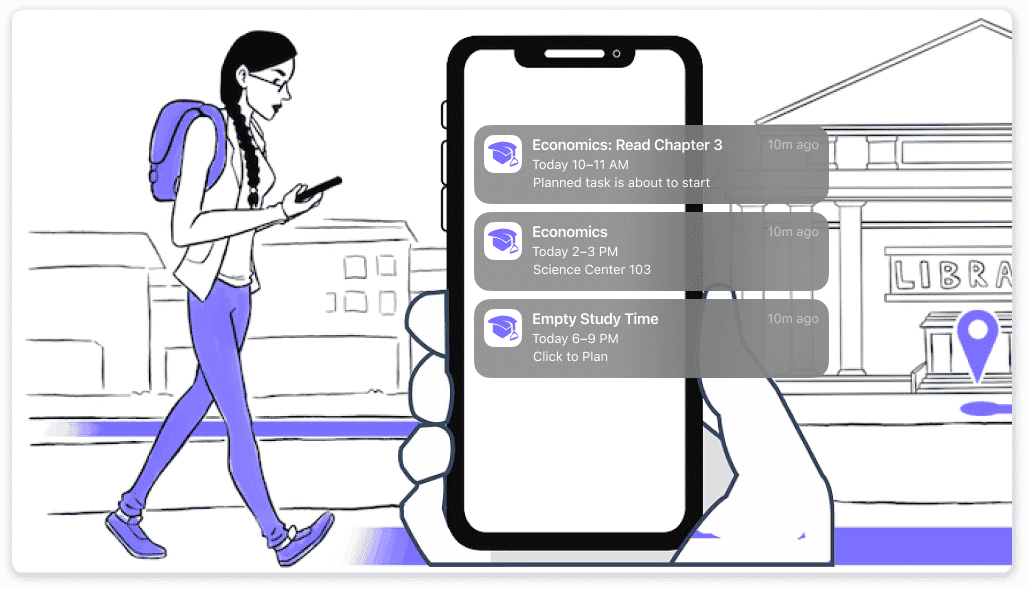 Why Use Shovel to Create Your Study Schedule?
Shovel is unlike any other study planner, paper or digital.
It is a timeboxing study planner, a to-do list, and a time calculator all in one. It allows you to build your entire study plan and track your progress.
Shovel keeps your schedule, organizes all your tasks from all your classes, and lets you plan your tasks into your schedule so you always know what you'll be working on, when, and for how long.
But that's not all! It also calculates how long a specific task will take and automatically assess if you can get it done on time based on your set schedule.
If you are a visual learner, Shovel is your dream come true. It will help you create and visualize a more detailed layout of your daily school/work/life schedule and ensure you have enough time to get everything done, no matter your learning style.
Shovel will help you avoid distractions and improve your time management skills.
Shovel's goal is to help you become a better student without the stress.
Free eBook for stress-free A's
No thanks. I'm already a stress-free student.